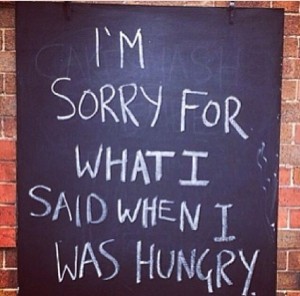 Ask anyone who knows me: hungry Emma = grumpy Emma.
Following fast on it's heels, they'll tell you I'm always thinking about my next meal. It's not uncommon for me to be planning dinner even as I'm digging into a burrito over lunch break.
Right now, I'm thinking about the leftover Pad Thai that's in the fridge for lunch, and what I'm going to cook for dinner… scrambled eggs? A salad thrown together from the random assortment of vegetables and leaves? I'm already salivating over the roast chicken and triple cooked sweet potatoes fries that will be tomorrow night's dinner.
For me, food is joy; a way of expressing creativity. The smell of sizzling oil as you pull the roast potatoes out of the oven; the slap of dough as you knead bread; the noisy burr of grinding coffee beans. The sounds and smells of the kitchen are home for me.
"When I'm in a blue mood I head for the kitchen. I turn the pages of my favorite cookbooks, summoning the prospective joyful noise of a shared meal. I stand over a bubbling soup, closing my eyes, and inhale. From the ground up, everything about nourishment steadies my soul."
– Barbara Kingsolver, Animal Vegetable Miracle
Food is so much more than just fuel for the body. It's comfort, it's memory, celebration. And it's a way to practice justice.
"To be sure, food keeps us alive, but that is only its smallest and most temporary work. Its eternal purpose is to furnish our sensibilities against the day when we shall sit down at the heavenly banquet and see how gracious the Lord is. Nourishment is necessary only for a while; what we shall need forever is taste."
– Robert Farrar Capon, The Supper of the Lamb
In 4 short days, I'm changing my eating habits for a week. For the 1.2 billion people living below the poverty line, food isn't some hipster status symbol to show off (and I confess that I have used it as this, too). It's a means of survival. I'm choosing to stand in solidarity with my brothers and sisters around the world, and live off their level of income for 5 days.
From Sunday 20 – Thurs 24 April, I'll be living off £1 a day for food and drink.
It's only one week, and it's only food and drink. Let's be honest – it's a pretty easy sacrifice to make in comparison to the decisions faced by millions around the world each morning: do I eat today, or do my children eat? Food today or life saving medicine tomorrow?
Christian Aid is an organisation that insists the world can and must be swiftly changed to one where everyone can live a full life, free from poverty. From Afghanistan to Zimbabwe, their essential purpose is to expose the scandal of poverty, to root it out from the world and to challenge structures and systems that keep people poor. During my Live Below the Line week I'm raising money for Christian Aid. I had the extreme privilege of volunteering and working for Christian Aid a few years back, and I was blown away by the life-transforming potential of their work. If you can, please give generously to this incredible charity.
Next week, I know I will get hungry, I will get bored of rice, I will have coffee withdrawal symptoms, and I will almost definitely be grumpy. Forgive me – it's for a good cause.
"We don't come to the table to fight or defend. We don't come to prove or to conquer, to draw lines in the sand or to stir up trouble. We come to the table because our hunger brings us there. We come with a need, with fragility, with an admission of our humanity. The table is the great equalizer, the level playing field many of us have been looking everywhere for."
– Shauna Niequist, Bread & Wine
[There's still time to make that donation….]