So time for some pictures and feedback…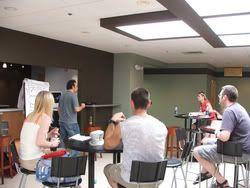 At Orchard, the church mission is that they exist to lead people into a growing relationship with Jesus Christ, but they have recognised that you need to define what it actually looks like.
At Orchard, a growing relationship is characterised by:
Intimacy with God
Community with insiders, and
Influence with outsiders
They are a 'Glocal' chuch… mission is not a department. Small groups are encouraged to adopt a missionary to support, and do local outreaches together. It is about thinking globally AND being involved locally.
"My job as a pastor is to consistently make people uncomfortable." Scott Hodge.
Common Grounds coffee bar area.
Wahabu Land kids ministry area. (Wahabu means God's love in some African language, I've forgot which one, Scott help me out here??)
More kids ministry stuff
Scott and I.