…i've missed blogging!!
just got back from my Exodus team last night, flew into Belfast at 5.45. Ah where would I start with it, the guys on my team are fantastic, like family, I made a lot of new mates and got closer to old ones, and God did a might work- both in our lives and in the lives of the people we touched. Many seeds were planted. The picture below was taken one day when we went to Antwerp (in Belguim) and did some street worship and dramas, just talking to people. Its our whole team plus people that joined us for the day. I shall post more as time goes on, but God has indeed done a lot in my life and taught me soo much, I couldnt possibly post it all at once. So that'll do for a start.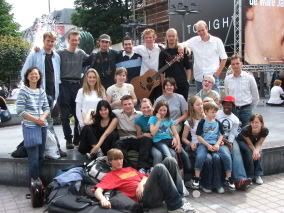 I've also been hearing great stories about Deep Fish, an outreach programme running from the Wash Basin at the minute, today is the last day, and so far I hear there have been about 70 people become Christians! I had to ask them to repeat it a few times, I thought I was hearing them wrong! How awesome is our God guys, seriously!!